Automobility – Celebrating 20 Years in Business
Automobility has officially been in operation since 2001, and is celebrating 20 years in business this month! To celebrate this very special achievement we asked Founder and Director, Jeff Watters to spill the beans (or tea – if you're aged under 25!) about how it all started, what the past two decades have been like, and what's in store for Automobility in the future…
            Q: What was your original motivation for starting Automobility?
            A: I had been working as an Automotive Engineering consultant for about 10 years and wanted to do something more meaningful and less reliant on Government policy. It was the late 90's and I was consulting to a company that was just starting to get into wheelchair access vehicles. That's when I developed the patented independent rear suspension which became the cornerstone for all Automobility's conversions – even to this day.
The company failed, owing money to lots of people – including me – but I liked the concept of what they were trying to do and the meaningful outcomes the business would generate, so I bought the smouldering ruins from the administrator and secured the Intellectual Property rights. That's how Automobility was born!
            Q: What were those early years like, when did you realise it was a success?
            A: The early days were very tough, as we tried to finish vehicles that had been left in limbo by the failed company, and went out looking for more work. I invested about $20K of my own cash into the business and we leased our first factory in Croydon, bought some second-hand workshop equipment and hired two fabricators and a Manager. I continued with my consulting work in the early days, as the business was barely covering its costs but by late 2004, we had grown to a level of stability and I began working fulltime on Automobility.
There's an old saying business; 'how many years does it take to be an overnight success?!' I don't think there's a specific number, but when we outgrew our original 500 sqm factory and moved to a 1,500 sqm factory in Bayswater, I realised we had become successful. It was about this time that we started proper corporate planning and goal setting, and it was these activities that helped Automobility grow substantially and produce the exceptional products we manufacture today!
            Q: What's been the hardest part of running Automobility?
            A: Running a small business is harder than it looks and the bigger you get, the harder it gets as you now control the livelihoods of your employees and their families, as well as your own. It can entail long hours, thankless tasks, dealing with bureaucratic processes – all while up against rising prices and increasing consumer demand for better products at lower prices.
            Q: What the most rewarding part of running Automobility?
            A: That is simple; we change people's lives!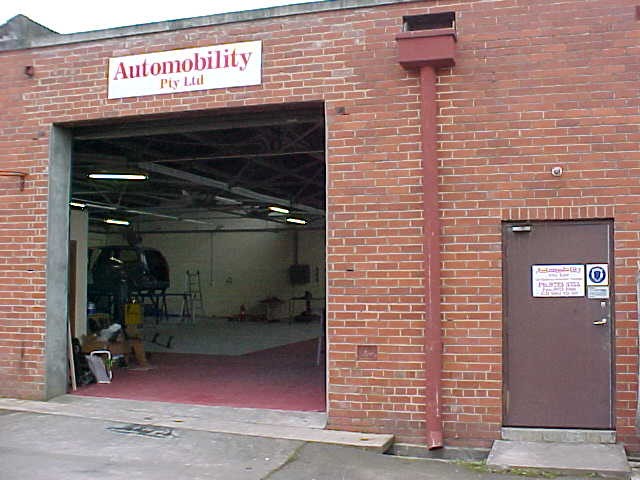 From humble beginnings, the first Automobility factory in Croydon was where Jeff
and a small team of just three began to rebuild the failing business!
            Q: How many WAV's has Automobility converted in the past 20 years?
            A: I used to pride myself in knowing who each of our clients were – after all, they're part of the Automobility family. Once we started manufacturing in excess of 100 vehicles per year, keeping up with every client's name and circumstances became near impossible – it's good thing we now have Mobility Consultants in each State to help deliver our personalised service and support. Without undertaking a detailed analysis, I'd make an educated guess and suggest it's approaching 2,000 conversions – plus or minus a few.
            Q: What role has Automobility played in the WAV industry over the years?
            A: When I first started Automobility, most of the products were variants of WAV's from the USA and UK, or you just stuck a lift in the back of a van and called it a WAV.
Our products revolutionised the industry. The patented independent rear suspension we developed and offered in our early Kia Carnival's were considered world leading, and while we know that 'imitation is the most-sincere form of flattery' I'm always surprised when I see competitors using variants of our design, without the full knowledge of our IP and why we do it the way we do.
It's because of our innovative products and commitment to our clients that we have become as well renowned as we are. It's these products and services that sets us ahead and apart from our competitors. This is the legacy that I will leave behind to not only this company but the industry too.
            Q: What would you like to see change in the WAV industry?
            A: I'm a strong advocate for the end-user. We ensure our vehicles are fit for purpose, safe and compliant, but not all companies have the same commitment or quality controls. I regularly champion the industry and State Registrations bodies to call out dodgy manufacturers, and ensure that all WAV vehicles are compliant and safe – I want to see the industry put people first, not profits.
            Q: Looking to the future – what's next for Automobility?
            A: I often joke about our world domination plans, especially when I see one of our vehicles out in the community but also just get great satisfaction in knowing that vehicle has changed someone's life. As a company, Automobility is diversifying somewhat to offer general mobility equipment and installations, like boot hoists, hand controls and mobility aids. We are also moving towards more commercial conversions to complement our private client vehicles.
The onset of COVID has slowed things down and overseas may as well be another planet right now. Our goals are to consolidate Automobility to ensure it stays one of the largest and most successful mobility companies in Australia. I'm also working to set up the company structure so it continues long after I have retired, so I can rest on the laurels of my legacy and decades of hard work, knowing we will continue changing lives through the best quality products and support.
            Q: Finally, how is Automobility celebrating this milestone?
            A: 'Enabling Life's Journey' is our motto and helping people get their independence, freedom and adventure back is what we really stand for. So instead of spending money on a big fancy marketing campaign to promote our 20 years, we decided to run a promotion on our Facebook page giving away four mid-week city getaway packages valued at more than $450 each, including WAV car hire with Hertz, hotel accommodation, dinner and movie vouchers. We wouldn't be here without the trust and support of our clients, so we want to make this celebration about them, not just us!
Looking for a wheelchair access vehicle (WAV) for you and your family – or for your organisation or business? Call the Automobility team today on 1300 660 773 for an obligation free consultation and demonstration session, in person or on online.