Ability Fest – A Festival for All Abilities
Currently, there are up to 4.3 million young Australians living with a physical, intellectual or sensory disability. Ability Fest invites people of all abilities, 18 years or over, to come together and embrace live music as an inclusive platform to normalise disability.
It's known as Australia's most accessible festival and this year it's back with an incredible line-up of entertainment at Melbourne's Coburg Velodrome on Saturday 4th April, 2020.
Who Started Ability Fest?
Established in 2018 by the Dylan Alcott Foundation & Untitled Group, the one-day festival was launched by the legendary three-time Paralympic gold medalist & ten-time grand slam champion, Dylan Alcott! Alcott started the festival out of his love for music and drive to change the lives of young Australians living with a disability.
In the past two years, Ability Fest has raised up to $500,000 for the Dylan Alcott Foundation! Learn more about the Dylan Alcott Foundation, here. The funds go towards helping young Australians with disability reach their full potential through a grant program. But this year, donations will also go to people with disability affected by the devastating bushfires.
"I think everybody in life deserves to have fun and for people with disabilities, sometimes they don't have those opportunities, particularly in music. So, we wanted to create an event where everybody of all abilities could come and just enjoy themselves." – Dylan Alcott
What Makes Ability Fest Different to Other Festivals?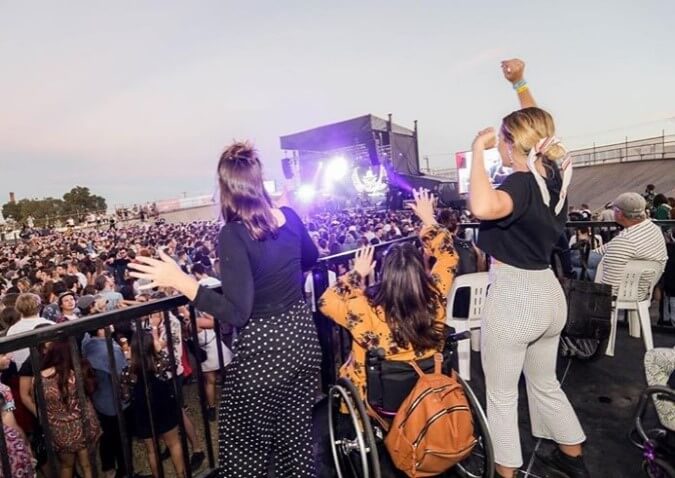 While Ability Fest might appear to have the same offerings as other festivals from having a stellar line-up to local food trucks…it's also decked out with features to make it far more accessible for people of all abilities.
Ability Fest includes raised viewing platforms, ramps, sensory quiet areas, companion ticketing, AUSLAN interpreters, and of course, accessible toilets and a Marvaloo. The festival also welcomes guide dogs and has plenty of friendly volunteers to help guests throughout the event!
This year, you'll even find some comfortable areas and novelties put together by ANZ, NEC & QT Melbourne…
What do I bring to Ability Fest?
Melbourne is renowned for it's 'four seasons in a day' temperamental weather, so if you're headed to Ability Fest it's best to dress accordingly for rain or shine! It's most advisable to bring along a jumper or coat if you plan on staying for the entire day and into the evening. Other items you may require to bring along are portable phone chargers, a hat and sunscreen (under 100ml). Find out more about what to bring here.
When can I buy Tickets to Ability Fest?
Presale tickets to Ability Fest go on sale for $60.00 Tuesday, 25th February at 6:00pm (AEDT) and you can register for early access to discounted tickets here. For more updates, follow the event on Facebook. This is one fun event you won't want to miss out on!
At Automobility we are dedicated to enabling life's journey! We design our Wheelchair Access Vehicles (WAVs) to meet the specific needs of every individual.
If you'd like to know more about how a WAV can benefit your lifestyle, you can contact our team here. We are more than happy to support you along the way.