Where to Play Wheelchair Tennis in Australia
Playing a sport is a fantastic way to get active, meet some new people and get involved in your community. Wheelchair Tennis is gaining more popularity when incredible champions like Dylan Alcott, Shingo Kunieda and Diede De Groot are seen competing for their titles at the Australian Open (AO).
To give you some background on the fast-growing sport, Wheelchair Tennis has been a part of the Paralympic Games since 1992 as well as featuring at all four Grand Slams since 2007. The sport also hosts its own flagship international competition, the BNP Paribas Wheelchair World Team Cup and its own professional tour, the UNIQLO Wheelchair Tennis Tour. The UNIQLO tour boasts over 150 tournaments across 40 different countries with nearly $3million USD in prize money!
So, whether you're interested in getting fit or have your eyes on the prize…here are the basics of what you need to know about Wheelchair Tennis in Australia and how you get involved, casually or competitively:
What are the Rules of Wheelchair Tennis?
There are three categories within the sport including Men, Women and Quads. The matches take place as singles (between two players) or doubles (between two pairs) and winners are determined by who is the first to win two sets. Wheelchair Tennis follows almost the same rules as able-bodied tennis. The key difference is Wheelchair Tennis players are permitted two bounces of the ball before they serve (opposed to one bounce). Players also use specially designed wheelchairs to aid manoeuvrability throughout a game.
Am I Eligible to Play Wheelchair Tennis?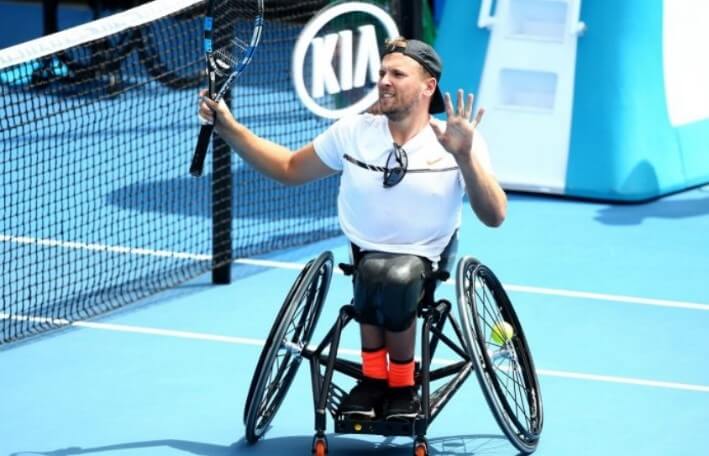 To be eligible to compete in official Wheelchair Tennis tournaments, a player must have a medically diagnosed, permanent, mobility-related physical disability in the lower extremities. You don't have to be a permanent wheelchair user to play the sport as there are two class divisions which base people on their functional ability. The two divisions are Open and Quad:
Open Division – The Open class is for athletes with a permanent impairment of one or both legs but full function in their arms.
Quad Division – The Quad class is for athletes with a permanent physical disability that results in substantial loss of movement in one or both legs as well as one or both of their arms.
Where can I play Wheelchair Tennis in Australia?
Whether you're interested in playing casually to build up your fitness or train competitively with hopes of taking part in tournaments, there are several Wheelchair Tennis development hubs, clubs and coaches across Australia. Take a look at the full list on Tennis Australia's website to find a venue nearest to you or for more information, contact .
Where can I Watch the Stars Play?
If you're in need of some inspiration before heading out to your local tennis court, you can watch the stars play each year at the Australian Open. There are several matches held throughout the tournament at Rod Laver Arena, Margaret Court Arena and various other locations across Melbourne. But if you're interested in watching your favourite player, you can simply search for their schedule!
At Automobility we are dedicated to enabling life's journey! We design our Wheelchair Access Vehicles (WAVs) to meet the specific needs of each individual.
If you'd like to know more about how a WAV can benefit your lifestyle, you can contact our team here. We are more than happy to support you along the way.