Top Wheelchair Accessible National Parks & Trails in Australia
Australia is home to some of the most beautiful National Parks in the world, and what you may not know is many of them are wheelchair accessible. So, if you're looking for adventure, you can surround yourself with the wonderful sights and sounds of the rainforest, white sandy beaches and native Australian wildlife. Think of Kookaburras laughing, the scent of eucalypt woodlands and distant waves crashing against cliff faces.
Embracing the great outdoors is known for having several health benefits, for example it can help:
Gain a clearer mindset and sense of purpose
Boost your immune system
Reduce fatigue and increase energy
Elevate moods and feelings of happiness
Along with wheelchair accessible trails, some Australian National Parks offer TrailRiders free for hire. A TrailRider is an all-terrain wheelchair which requires a minimum of two guides to operate it. They enable people with limited mobility to get out on more rugged landscapes and explore locations beyond the realm of a conventional wheelchair, including up and down stairs. At participating parks in Victoria, visitors wanting to use a TrailRider can choose to have the assistance of a 'Sherpa' – volunteers who manage the all-terrain wheelchairs and guide people around the parks.
To help you find the best accessible parks and trails in Australia, check out our top picks for each state below:
Victoria
Grampians National Park – In North West Victoria near the town of Stawell, the Grampians is well known for its spectacular views, hidden gorges and waterfalls.
Mackenzie Falls is a must do for all visitors to the Grampians, hosting one of the largest waterfalls in Victoria. Flowing all year round, water cascades over huge cliffs forming fine rainbows in the mist above a deep pool of water. To get the best view, take the easy 1-kilometre pathway to the viewing platform at the Bluff (about 20 minutes one way).
Dandenong Ranges –In East Victoria, the Dandenong Ranges is renowned for its cool climate gardens with spectacular collections of rare pants, bursting with seasonal colours.
Grants Picnic Ground is a great accessible destination in the Sherbrooke section of the park famous for its bird feeding areas which attracts colourful Rosellas, Galahs, Cockatoos and the occasional Lyre Bird! The Margaret Lester Walk is specially designed for those with limited mobility providing views of Ash Trees and Tree Fern Gullies.
TrailRiders are available at both locations. To make a booking in advance contact:
New South Wales
Kamay Botany Bay National Park – Located at La Perouse and Kurnell in Sydney, Kamay Botany Bay is full of significant sites where you can delve deeper into the history of Aboriginal culture and Captain Cook's Landing Place.
Full of stunning coastal backdrops, Cape Solander is a famous spot in Sydney for whale watching. June and July are the best times to spot Humpback whales as they migrate to warmer waters and have been known to swim as close as 200m to the coastline! To access Cape Solander you will need to book a TrailRider from the Visitor Centre and bring your own guides along to assist you.
For a pleasant stroll along the coastline (1.1 kilometres one-way), the Burrawang Walk begins at the Visitor Centre and lets you imagine what Kamay Botany Bay looked like in 1770, featuring interpretive signs on the cultural and natural history.
Blue Mountains National Park – Two hours West of Sydney, the Blue Mountains has sensational views over deep valley troughs that were incredibly formed over millions of years.
The Fairfax Heritage Walking Track meanders from the Blue Mountains Heritage Centre to the dramatic cliffs and lookout of Govetts Leap at Blackheath. The wheelchair accessible path winds over gentle slopes, skirting the edge of a unique hanging swap. You can see various native flora and fauna from Peppermint and Scribbly Gums to the vibrant red Waratahs, as well as many other colourful wildflowers.
Queensland
Cape Tribulation, Daintree National Park – Located in far North Queensland, 100km northwest of Cairns and 2 hours north of Port Douglas, Cape Tribulation is one of the most biologically diverse areas in the world. It's a very special place where the dense trees of the Wet Tropics meet the crystal-clear waters of the Great Barrier Reef, and two world heritage areas collide.
At Cape Tribulation, the Marja Boardwalk, Dubuji Boardwalk and Kulki Boardwalk are completely wheelchair accessible and another, the Jindalba Boardwalk is partially accessible. For more information see here. There are also a range of accessible tours in Cape Tribulation including exotic fruit tastings and wildlife cruises where you can see crocodiles in their natural habitat!
Great Sandy National Park – Just north of Sunshine Coast, Great Sandy National Park is divided across two areas, Cooloola and Fraser Island. Here you can see staggering views of long sweeping beaches, sand dunes, freshwater lakes, paperbark swaps and wildflowers.
There are wheelchair friendly areas at the Cooloola Recreation Area which spans from Noosa Heads in the south and Rainbow beach in the North. This includes the day use area at Freshwater campsite, the Bymien picnic area, Fig Tree Point and Harry's camping and day use areas.
Western Australia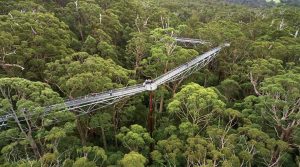 Walpole-Nornalup National Park – In South West Australia, Walpole-Nornalup National Park is famous for its towering Karri and Red Tingle Trees. Red Tingle Trees are a stunning sight to see with circumferences of up to 22 metres and growing to heights of 20 metres!
Built over 20 years ago, the Valley of the Giants Tree Top Walk is wheelchair accessible. Its 600-metre structure placed 40-metres above the ground weaves through spectacular views of the Tingle forest tree-tops. Complimentary wheelchair hire is also available here.
Cape Le Grand National Park –Also South West of Perth, Cape Le Grand National Park is home to one of the best beaches in the world! At Lucky Bay you can see pure white sand, bright turquoise water and local grey Kangaroos who regularly come down to visit!
You can drive right onto the beach in the comfort of your own car but be aware there can be risky conditions so always speak to a ranger about surface and tides first before you drive on. If the conditions aren't right for a drive on the beach, you can enjoy a picnic overlooking the bay or drive down to see views of Frenchman Peak and Thistle Cove.
For more access to nature South of Perth, check out more information on parks and trails here.
Tasmania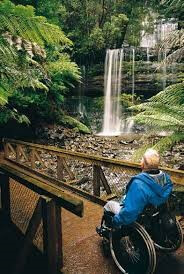 Mount Field National Park –just a one-hour drive Northwest of Hobart, Mount Field National Park is one of Tasmania's most loved areas with its diverse vegetation ranging from tall Swamp Gum forests, massive Ferns to Alpine moorlands and plenty of waterfalls to discover.
The star attraction of the park is Russell Falls – Tasmania's most photographed waterfall! The 20-minute return walk to the falls is completely wheelchair accessible. On the way you can see towering Swamp Gums and special types of wet forests including Dogwood, Musk and Myrtle.
Cradle Mountain-Lake St Clair National Park – Located in the central highlands of Tasmania, Cradle Mountain-Lake St Clair National Park is home to many ancient plants including the King Billy Pine and unusual Beeches. The park's rich habitat is home to Tasmanian devils, quolls, platypus and echidnas.
The Rainforest Walk starts at the Visitor Centre and is suitable for most independent wheelchair users. The Enchanted Walk starting 30 metres from the Visitor Centre is also wheelchair accessible up until the bridge where there are a few steps.
TrailRiders are available at both locations. To make a booking contact:
Mount Field National Park Visitor Centre on (03) 6288 1149.
Cradle Mountain-Lake St Clair National Park Visitor Centre on (03) 64 921 110
South Australia
Naracoorte Caves National Park – Situated on the Limestone Coast, approximately 300km South East of Adelaide, the Naracoorte Caves National Park is South Australia's only World Heritage listed site. It preserves Australia's most complete fossil record for the past 500,000 years!
The Roof Top Loop Walk is wheelchair accessible, spanning across the Wonambi Fossil Centre with the Bat Observation Centre, Bat Cave and Blanche Cave. There is interpretive signage details the creatures which roamed the land before extinction and markers to indicate when you're over a cave. Viewing platforms also allow you to see glimpses in the cave interiors where you may see a native bat or two!
Flinders Chase National Park – Getting to this park is a great excuse for a road trip! Located 110km west of Kingscote on Kangaroo Island, you can get there by taking the Sealink ferry taking your car aboard (45-minutes one-way) from the mainland at Cape Jervis.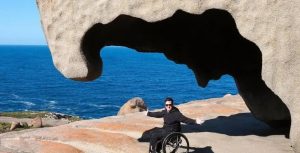 Flinders Chase National Park has breathtaking scenery known for its stunning rock formations and whale spotting. The Remarkable Rocks Walk is 1km and wheelchair accessible until it reaches the rocky outcrop. There you can see the granite boulders in quirky shapes and sizes, almost like natural artistic sculptures!
On Kangaroo Island, you can also check out the accessible boardwalk at Seal Bay to watch pods of seal pups get together, and take a self-guided drive at Cape Gantheaume Conservation Park.
As industry leaders in Wheelchair Access Vehicle (WAV) conversions, we understand that travelling with a person with a disability or limited mobility can sometimes be challenging. If you'd like to get out and about more, consider a wheelchair access vehicle.
You can call our friendly team on 1300 660 773, or contact us online for an obligation-free vehicle demonstration and consultation in your home, Australia wide.